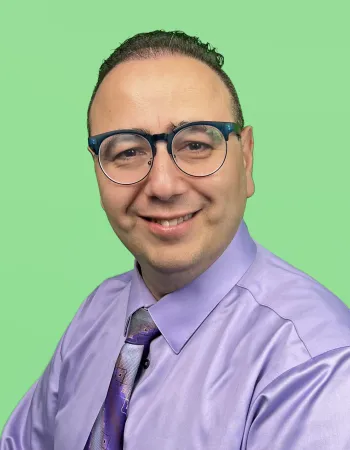 Ahmad A. Mourad, M.D.
Dr. Ahmad A. Mourad is board-certified in Pediatrics and Allergy/Clinical Immunology. Dr. Mourad received his Medical Degree from University of Damascus in Syria, and then he moved to United States and completed his Residency Pediatric Training at St. John Hospital and Medical Center in Detroit, Michigan. After that he practiced pediatric for several years in Michigan, Virginia and Illinois. Dr. Mourad completed his Allergy/Immunology Fellowship at Louisiana State University and joined the Allergy Clinic of Tulsa, Inc. in 2015
He is a Member of the American Academy of Allergy, Asthma, and Immunology, American College of Allergy, Asthma, and Immunology, American Academy of Pediatrics, and Oklahoma Allergy Society.
Dr. Mourad is married and has three children two girls and one boy. Beside enjoying travel, he is a big fan of soccer.
Certifications
American Board of Pediatrics
Neonatal Resuscitation Program
Pediatric Advanced Life Support
Basic Life Support
Specialties
Allergy/Clinical Immunology
Pediatrics
Locations
Bartlesville Office
South Office
Utica Office
Professional Organizations
American Academy of Allergy, Asthma, and Immunology
American College of Allergy, Asthma, and Immunology
American Academy of Pediatrics
Oklahoma Allergy Society