Thanks for printing! Don't forget to come back to Allergy Clinic of Tulsa for fresh articles!
Closing All ACT Clinics
Due to inclement weather and hazardous road conditions, all ACT clinics are closed today 02/05/2020.

Promoting Flu Awareness
The Oklahoma State Department of Health has reported that there have been over 860 hospitalizations and 20 deaths reported from the flu since September, 203 of those hospitalizations and six of those deaths just occurred between Jan. 5 and Jan. 11, the most recent week from which flu data is available.

Allergy Clinic still has flu vaccine available, get yours today and increase your chances of staying well!
ATTENTION!!!
ATTENTION PATIENTS
Effective November 1, 2019



Patients who no-show or cancel/reschedule less
than 24 hours prior to their appointment time
will be charged a $50 fee
.
This fee must be paid before a new appointment can be scheduled.
We understand that it is sometimes difficult to keep a scheduled appointment due to unforeseen circumstances. However, missed appointments (no-shows) or late cancellation/reschedule of an appointment adversely affects our ability to provide timely care to patients on our waiting list. When a patient does not show up for or cancels their appointment last minute, another patient loses the opportunity to be seen.
We appreciate your understanding and cooperation in this matter.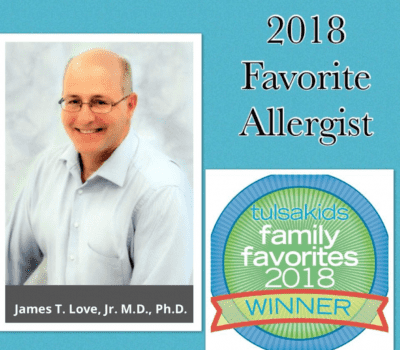 TulsaKids Winner
Allergy Clinic of Tulsa's very own Dr. James Love is the 2018 TulsaKids Family Favorites contest winner for the Favorite Allergist category. Dr. Timothy Nickel is the 2018 Finalist for the same category. We couldn't be more proud of our physicians!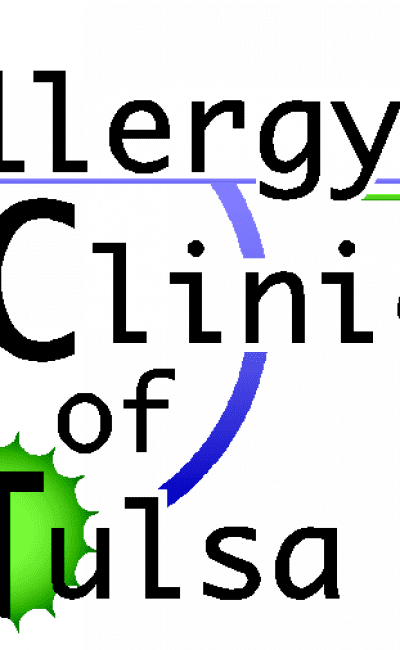 PatientGram
Click the link to view our PatientGram, it is our monthly informative article to help keep you aware of what is happening at the Allergy Clinic of Tulsa.
Food Allergy
Sometimes children labeled with food allergy due to past positive tests aren't really allergic at all and can eat all and can eat these foods without symptoms.  Your allergist may want to introduce your child to these foods, using a safer manner than just trying it at home.  This is called a food challenge.  Ask your allergist if this would be an option for your child.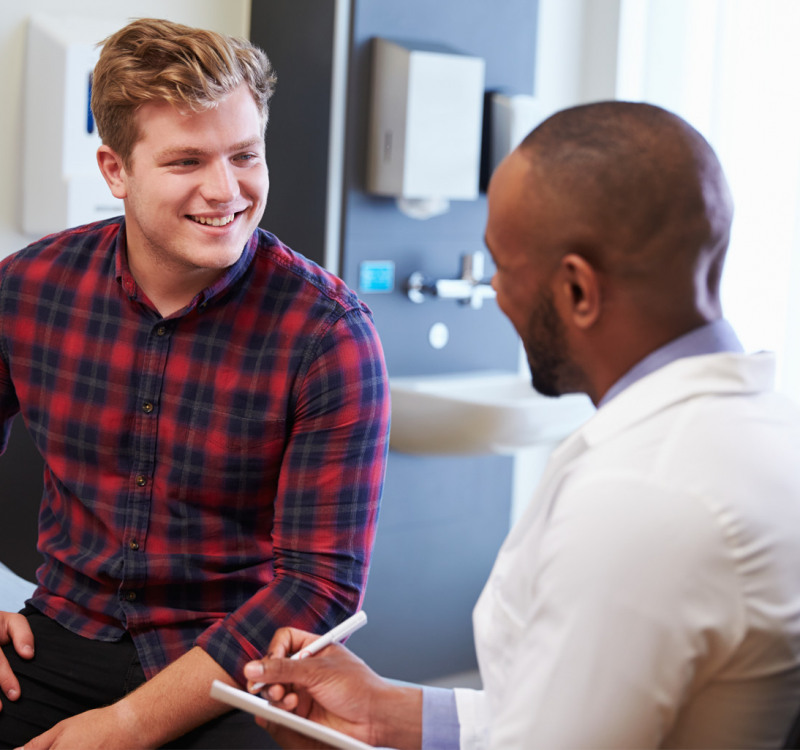 Our Goal is a Healthy, Happy You
Our primary goal at Allergy Clinic of Tulsa since 1959 is to provide our patients focused, cost efficient medical care with stated treatment goals and measurable results. We hope you will browse our website and feel free to contact us with questions, comments or to schedule an appointment. Our medical staff includes seven board certified medical doctors trained in pediatric and adult treatment of allergy, asthma and immunology related conditions, as well as testing for various food and drink allergies.
Girl, 11, dies after a severe allergic reaction to TOOTHPASTE
Girl, 11, dies after a severe allergic reaction to TOOTHPASTE that contained a milk protein
Denise Saldate, 11, from West Covina, California, was diagnosed with a dairy allergy at age one 
She was prescribed toothpaste on April 4 to help strengthen her tooth enamel
That evening, she went into anaphylactic shock, which is when the immune system overreacts to an allergen
Her parents discovered the toothpaste had Recaldent, a milk-derived protein
Denise was in the hospital for two days before she passed away on April 6
For full story please follow the source site below
By Mary Kekatos, 04/18/2019, Girl, 11, dies after a severe allergic reaction to TOOTHPASTE that contained a milk protein
Source: https://www.dailymail.co.uk/health/article-6936437/Girl-11-dies-severe-allergic-reaction-TOOTHPASTE-contained-milk-protein.html
Changed my life!

This place has changed my life! I used to be sick almost every spring and any windy days... Resting better and more functional! TY allergy clinic of Tulsa! This and my HiTech air machine has made a world of difference! ACofTulsa Rocks!

- Susan W.

Improved my son's life

ACT was life saving to my son. For three years we struggled with my sons allergies before we met Dr. Love. We are so thankful to him for his care. He improved my sons life drastically with his guidance and care. I must also give praise to Todd Coleman and Karen Arnold ... they have been great docs as well along our journey.

- Carmell G.

So Thankful

As any mother of a child with allergies knows, it can be life threatening and letting your child grow up and be normal is sometimes scary and hard to do. Dr. Purser has enabled Shelby to spread her wings and enabled me to let go, she has given her a great freedom and a priceless gift. I am thrilled to have her care and encouragement for Shelby.

- Richelle W.
Upcoming Closings & Early Day
We will be closed Monday September 3rd for Labor Day.
Have a great Holiday
Five Convenient Locations in the Greater Tulsa Area