Thanks for printing! Don't forget to come back to Allergy Clinic of Tulsa for fresh articles!
Holiday Closing - Posted 11/24/2020
In observance of the Thanksgiving holiday, we will be closed on November 26th and 27th.
Scan Card - Posted 11/23/2020
For your safety, your scan card for shots is an added layer of identification. We will be requiring everyone to have one to properly identify you when you come in for allergy treatment. If you do not have a scan card simply check-in at the front desk at your normal location to receive your shots and we will provide one for you. As always your first card is free, if a replacement is required there is a nominal $2.00 fee.
End of Year Refills 2020 - 11/10/2020
End of Year Refills 2020
We opened end of year refills on 11/02/20; to ensure charges for allergy extract will be applied to deductibles ending in 2020, extract MUST be ordered prior to December 14, 2020.
*If you currently have a 3-month supply or more you are not eligible for end of year refill

*The extract order form must be signed (legible signature) and dated no later than 12/14/2020 or the order will not be completed-we are not accepting verbal authorizations

*If you have not been seen within the last year you are not eligible for end of year refill, you MUST make an appointment and have assessment prior to 12/14/2020

*Medicaid is not eligible for end of year due to no deductible required

*There are many insurances with limitations on extract and number of treatments billed so please understand we will only mix what is appropriate based on insurance limitations, unless you choose to pay cash which can be accomplished by signing and ABN(Advanced Beneficiary Notice)
Mingo Construction - Posted 11/03/2020
Beginning Monday, November 9th, the Mingo office patient parking lot will be under construction. French drains to assist with water flow disbursement are being installed in the north half of the lot (weather permitting). Additional parking spaces are being reserved on the south side of our office to assist with our patient load. Two of these spots will be designated for our handicap patients, as well. Construction is scheduled to be complete by end of business on Wednesday, November 11th (also weather permitting).
We appreciate your patience and understanding during this remodeling process.
Immune Deficiency Foundation
The Immune Deficiency Foundation is hosting an IDF National Summit, which will occur virtually on November 5-8, 2020, for people in the PI Community.

The IDF National Summit, formerly known as IDF Retreats, is an online gathering designed with everyone in the primary immunodeficiency (PI) community in mind! Patients, parents, siblings, children, and partners are encouraged to attend and learn how to develop better approaches to living with PI.

This new, immersive virtual format provides a unique opportunity to spotlight the best of what an online modality affords - meaningful collaboration and the ability to reflect and connect with others - no matter the location.

It's Flu Shot Time Beginning Steptember 1, 2020 - Posted 08/24/2020
All Allergy Clinic of Tulsa locations will begin offering preservative-free flu shots for our current patients.
A current patient is defined as one who has had an office visit with one of our providers within the last year.
No appointment is necessary.
Simply check-in with the front desk, present your insurance card, and complete the flu shot form.
Please be advised that patients with the following insurances will need to visit their Primary Care Physician (PCP) to receive their flu shot, per the insurance contract directives:
All HMO policies
Medicaid/Soonercare
Global Health
Tricare/Triwest
Veterans Administration
Indian Health Plans
INFECTION CONTROL POLICY
ALLERGY CLINIC OF TULSA
ENHANCES INFECTION CONTROL POLICY
We all know Coronavirus (COVID-19) has become an emerging threat across the country. Controlling the spread of infectious viruses is now even more important than before.
Therefore, we must ask that anyone who has recently traveled out of state within 14 days, been exposed to coronavirus cases or has flu-like symptoms (fever, body aches, sore throat, cough or shortness of breath):
DO NOT come to the clinic.
Call our office at 918-307-1613 and speak with a triage nurse -OR- send a portal message to determine your next step for treatment.
Further, if you are coming to the clinic for a scheduled appointment, testing or to get your allergy shots, we humbly request the following:
Adults - We ask that only the patient being seen/treated come to the clinic.
Minor children - We request that just one parent or guardian accompany the patient.
While we understand our requests may pose an inconvenience to some, our goal is to control overcrowding in our waiting room and better manage this evolving situation. While in our clinics, you will also notice enhanced anti-viral cleaning measures taking place. Rest assured, these are additional preventative measures to protect our entire patient population.
Phase 1 - Updated 05/22/2020
Effective June 1, 2020, our providers will return to rotating throughout our clinics on their normal schedules. Please be advised that our Infection Control measures remain in place at all offices:
Only the patient (or one parent with a minor child) will be allowed to come into the office for appointments or allergy injections

Every patient (and parent) must wear a face mask or some type of face covering while in the clinic

Each person entering the clinic will be asked screening questions at the front doors

Your temperature will be taken before admittance into the lobby is permitted

We ask you to maintain Social Distancing (minimum 6 feet from other patients) while in the clinics

Staff will continue disinfection protocols - hourly for all hard surfaces in the lobby and exam rooms after each patient is seen
ACT Is Continuing Care During COVID-19 Pandemic - Last Updated 05/22/2020
ACT Is Continuing Care During COVID-19 Pandemic
CRITICAL / ESSENTIAL
As a healthcare facility, the offices of Allergy Clinic of Tulsa are considered part of the "critical" or "essential" workforce. In an effort to minimize COVID-19 exposure to our patients, providers, and staff, each office has a strict screening process in place for all persons entering the clinics. Temperature readings are also being taken prior to entry. This process, along with hourly disinfecting procedures, helps to ensure that all our offices remain a "No Infection Zone". We appreciate your patience.
COMING TO THE CLINIC?
As a reminder, when coming to the clinic for an appointment, testing or allergy shot, we humbly request the following:
Adults - We ask that only the patient being treated come into the lobby
Minor Children - We request that just one parent/guardian accompany the patient into the lobby
While we understand our requests may pose an inconvenience to some, our goal is to control overcrowding in our waiting room and better manage this evolving situation.
TELEHEALTH VISITS NOW AVAILABLE!
Still concerned about a potential exposure risk? The Allergy Clinic of Tulsa providers are now set up to do TeleHealth visits for some appointment types. You must be web-enabled, signed up for our patient portal and sign an electronic TeleHealth Consent Form. Unsure of your ability to participate? Call and speak to one of our schedulers if you are interested in this option.
QUESTIONS ABOUT APPOINTMENTS, ALLERGY SHOTS, EXTRACT?
Please call our office at 918-307-1613 and speak with someone in scheduling, a triage nurse or an extract triage nurse -OR-send a portal message to your provider.
ATTENTION!!!
ATTENTION PATIENTS
Effective November 1, 2019



Patients who no-show or cancel/reschedule less
than 24 hours prior to their appointment time
will be charged a $50 fee
.
This fee must be paid before a new appointment can be scheduled.
We understand that it is sometimes difficult to keep a scheduled appointment due to unforeseen circumstances. However, missed appointments (no-shows) or late cancellation/reschedule of an appointment adversely affects our ability to provide timely care to patients on our waiting list. When a patient does not show up for or cancels their appointment last minute, another patient loses the opportunity to be seen.
We appreciate your understanding and cooperation in this matter.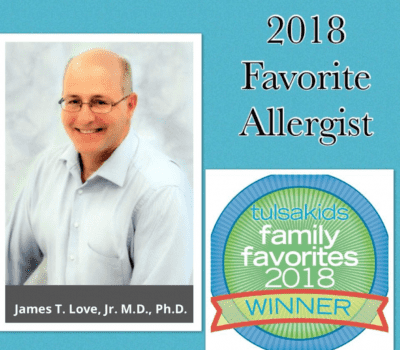 TulsaKids Winner
Allergy Clinic of Tulsa's very own Dr. James Love is the 2018 TulsaKids Family Favorites contest winner for the Favorite Allergist category. Dr. Timothy Nickel is the 2018 Finalist for the same category. We couldn't be more proud of our physicians!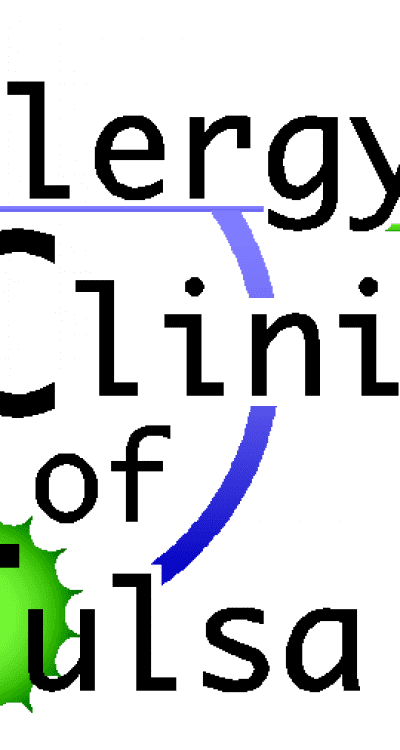 PatientGram
Click the link to view our PatientGram, it is our monthly informative article to help keep you aware of what is happening at the Allergy Clinic of Tulsa.
Food Allergy
Sometimes children labeled with food allergy due to past positive tests aren't really allergic at all and can eat all and can eat these foods without symptoms. Your allergist may want to introduce your child to these foods, using a safer manner than just trying it at home. This is called a food challenge. Ask your allergist if this would be an option for your child.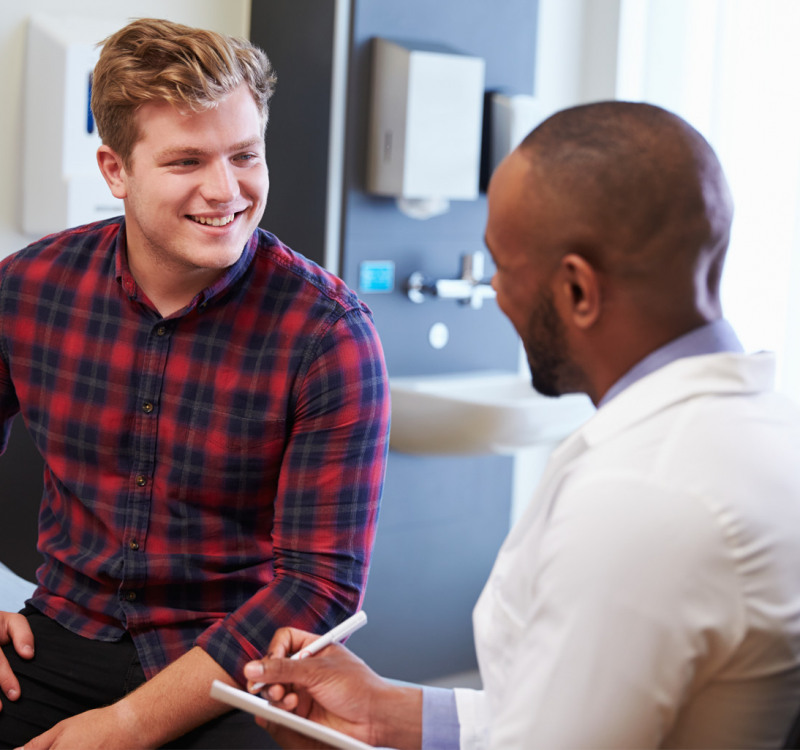 Our Goal is a Healthy, Happy You
Our primary goal at Allergy Clinic of Tulsa since 1959 is to provide our patients focused, cost efficient medical care with stated treatment goals and measurable results. We hope you will browse our website and feel free to contact us with questions, comments or to schedule an appointment. Our medical staff includes seven board certified medical doctors trained in pediatric and adult treatment of allergy, asthma and immunology related conditions, as well as testing for various food and drink allergies.
Changed my life!

This place has changed my life! I used to be sick almost every spring and any windy days... Resting better and more functional! TY allergy clinic of Tulsa! This and my HiTech air machine has made a world of difference! ACofTulsa Rocks!

- Susan W.

Improved my son's life

ACT was life saving to my son. For three years we struggled with my sons allergies before we met Dr. Love. We are so thankful to him for his care. He improved my sons life drastically with his guidance and care. I must also give praise to Todd Coleman and Karen Arnold ... they have been great docs as well along our journey.

- Carmell G.

So Thankful

As any mother of a child with allergies knows, it can be life threatening and letting your child grow up and be normal is sometimes scary and hard to do. Dr. Purser has enabled Shelby to spread her wings and enabled me to let go, she has given her a great freedom and a priceless gift. I am thrilled to have her care and encouragement for Shelby.

- Richelle W.
Upcoming Closings & Early Day
We will be closed Monday September 3rd for Labor Day.
Have a great Holiday
Five Convenient Locations in the Greater Tulsa Area