Thanks for printing! Don't forget to come back to Allergy Clinic of Tulsa for fresh articles!
NOTICE!!! Allergy Shot Hours at Owasso and Olympia locations 09/22/2022
All Allergy Clinic of Tulsa Clinics are back to normal Allergy Shot hours starting 09/26/2022
Now Hiring for our Owasso Location
Now Hiring for our Owasso Location
Are you a Certified Pharmacy Tech who is tired of working in retail
and looking for a change of employment? We are hiring!
We currently have several Pharmacy Techs employed that have
shared it has been the best move they have ever made.
You would be part of our clinical team and utilize and advance
your skills in a clinical setting. We offer a competitive salary based
on experience and a robust benefit package. Employees are able
to spend nights, weekends and holidays with their families.
Full time, Monday-Friday and 8 hours per day.
Applicants must possess basic computer skills, have reliable
transportation, valid driver's license and pass a pre-employment
drug screen. Interested applicants can submit a resume by email
(tsynar@allergyclinicoftulsa.com) or fax(918-994-6920).
Pollen Count Delay
Due to staff shortage we have not been able to process the Pollen Counts. We apologize for the inconvenience this may cause.

We're Hiring!
Allergy Clinic of Tulsa is hiring for the following positions
Nationally Certified Pharmacy Tech
We are also looking for a

Revenue Cycle Manager
We are looking to hire a highly-efficient revenue cycle manager (RCM) to oversee all tasks assigned to the revenue cycle department staff. The RCM's responsibilities include identifying patient reimbursement issues, ensuring that claims, denials and appeals are efficiently processed and resolving billing-related issues. The ideal candidate will have a Bachelor's degree in finance, business administration or healthcare administration - or five years of equivalent experience in these fields. They must possess strong interpersonal, organizational and customer services skills, as well as the ability to efficiently perform in a fast-faced work environment. Preferred experience also includes the ability to code diagnoses and procedures; sound knowledge of health insurance providers; ability to analyze and negotiate payor contracts; proficiency in all Microsoft Office applications, and adequately manage staff workflow and performance. Competitive salary based on experience, as well as an extensive benefit package. Applicants must possess basic computer skills, have reliable transportation and be eligible to work in the United States. Interested individuals should submit a resume/letter of interest by email (kriley@allergyclinicoftulsa.com) or fax (918-994-6920).

We offer a career path that includes added skills and pay
Fax your resume to: 918 - 994 - 6920

NEW CLINIC HOURS FOR 2022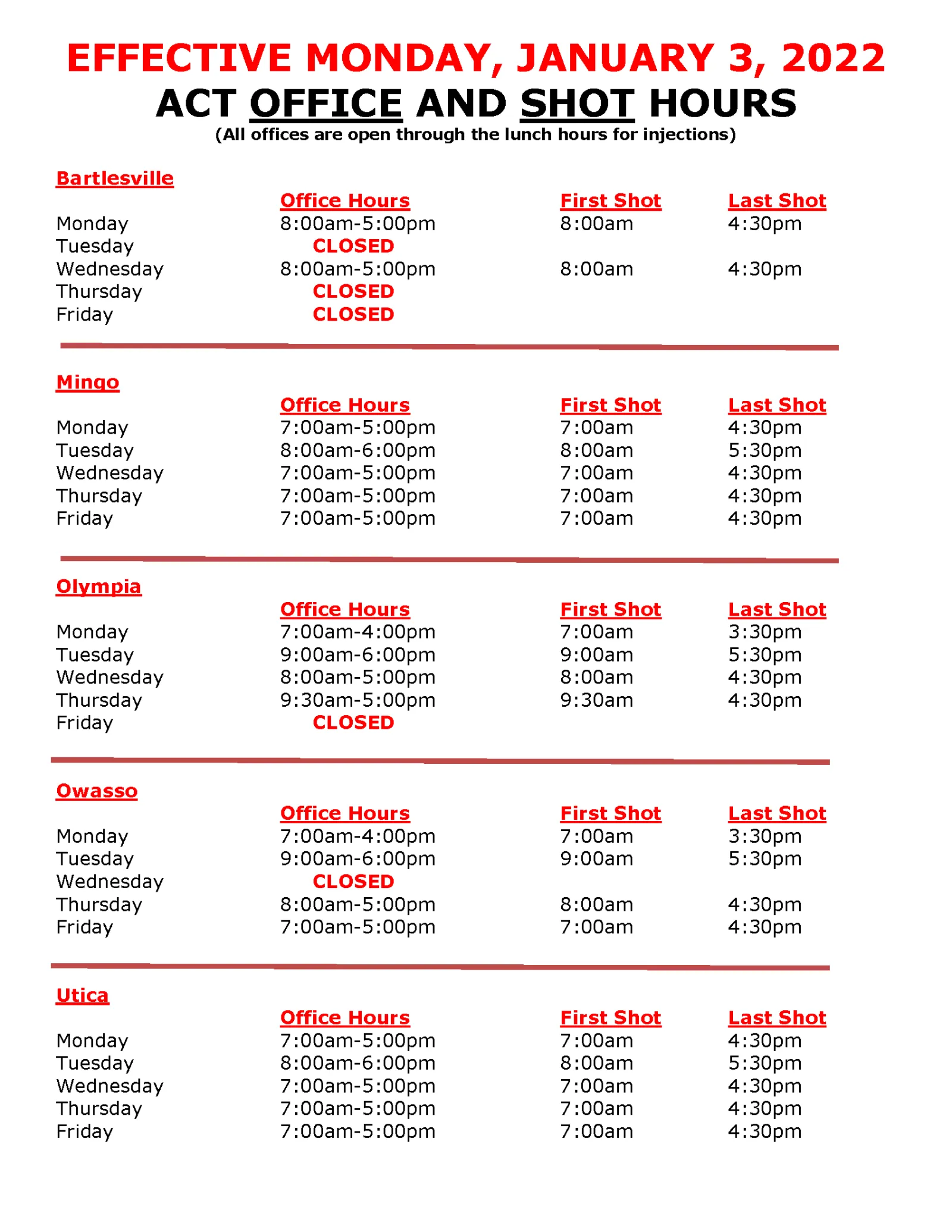 Patient Statements
Patient Statements
Allergy Clinic of Tulsa will be implementing our patient communication enhancement feature to send our communication pieces to you more efficiently. This ability will also help us all by reducing paper usage and improving our carbon footprint. To start, your patient statements will be sent via a link to your Email and/or SMS (text message) that you have provided us for your account. You will be able to conveniently and securely view your statement and make a payment from the link if you choose. We can also provide instructional handouts if you would like further assistance.
We thank you for growing with us and we look forward to continuing to provide excellent service.
Phone Call Tree 06/08/2022
If you need to call choose from the options below or send us a message through your patient portal.
If this is a potential Life-Threatening Emergency call 911
1) Having an Allergic Reaction
2) Appointments / Medical Records
3) Doctor to Doctor Calls Only
4) Outside Offices Only with Extract Question
5) Medication Refills / Nursing Questions
6) Billing / Insurance
No Surprise Billing ACT 2022 - Posted 01/2022
Tulsakid Winners 2022
Tulsakid Winners 2021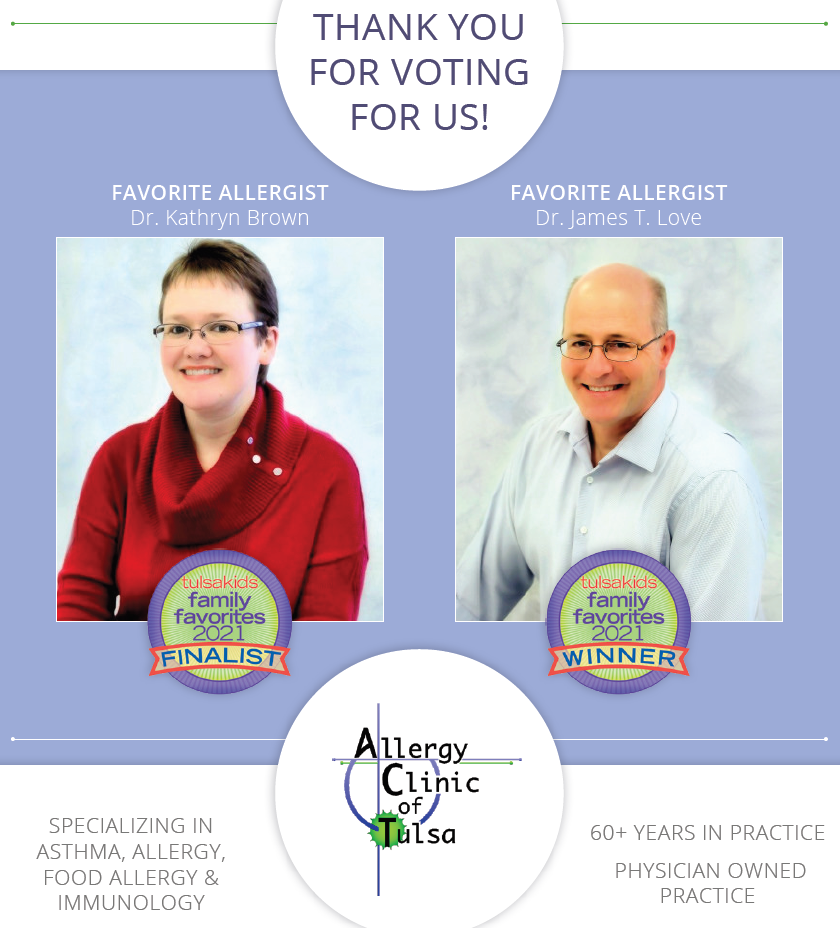 ACT has COVID vaccine available
Effective immediately, we are administering Moderna vaccine to current patients on Wednesdays, by appointment only. If you are interested in receiving the vaccine, please contact our office and ask to speak with or select the option for "Nurse Line" to schedule your appointment time.
Things to keep in mind:
Regardless of the city mandate status, anyone entering our clinic is

REQUIRED

to

WEAR

a

MASK

at all times

Only patients 18 years and older are eligible to receive the Moderna vaccine

Bring a photo ID and insurance card with you to the appointment

You cannot receive an allergy injection 48 hours before or after receiving the vaccine
The appointment for your second dose (28 days later) will be made at the time you check-in for the first dose
Be prepared to wait a minimum of 15 minutes after the vaccination for monitoring
Allergy Injection Self Sign-In
As an additional patient safety issue, our physicians have mandated that all patients check themselves in with the scan card provided to them at their first injection. If you present to a clinic without your scan card, you may purchase a duplicate for the minimal cost of $2.00. Patients will no longer be checked in by the front desk or front lab personnel.
Insurance Card
Each time you come to the clinic, the front desk staff is going to ask to see your insurance card. It contains important information needed in order to correctly bill the insurance for your services. If the correct information is not obtained, claims could be denied - making the patient responsible for all charges. Please make sure you have a physical copy with you -OR- email us a copy of the front and back of your card to
forms@allergyclinicoftulsa.com
and include the patient's name and date of birth. Be sure to save a copy to your phone to show the desk staff upon arrival. Without it, we may not be able to verify your benefits, causing your visit to be converted to "Self Pay".
ACT Update - Posted 03/26/2021
Effective Monday, March 29th, we will begin allowing one sibling or caregiver into the clinics with patients. Masks are still required for entry into all clinics.
If you receive injections in our Bartlesville, Olympia, and Owasso locations, please note that patients
will be asked to complete a short questionnaire once they are called to the shot windows. A parent or guardian of a minor child will need to accompany them inside for completion of this questionnaire process.
Dr. Love's COVID Infogram
Dr. Love's COVID Infogram
Today I'm going to go out and buy a Mega Millions lottery ticket. I almost never do, but the prize this week is almost a half a billion dollars! I'm feeling really lucky. I am pretty sure I'm going to win this time. So for the next day or so I'm going to figure out how to spend it all, and enjoy what is called magical thinking about how the rules of statistics don't apply to me. But I try not to have magical thinking about my health, especially with regard to vaccines.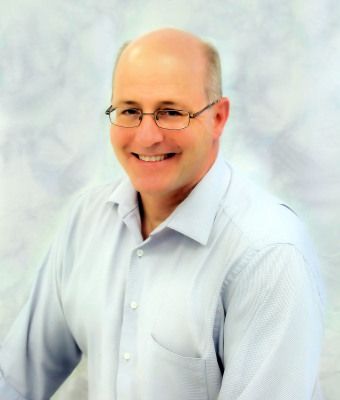 Here's some statistics on COVID:
COVID case rate in Tulsa County is 8 people out of 100 are now infected (8%). 10 to 15 of these infections will progress to severe disease, and 5% of all cases will become critically ill. If this disease is like the SARS coronavirus, many will develop life-altering complications that could last for years.
COVID death rate in Tulsa County is around 68.3 per 100,000 or roughly 1 out of 1,450 people. Drillers stadium holds 11,000 people. Would I attend a game knowing that 7 people would be randomly shot and killed each night?
Tulsa County deaths by age group: 1% in 18 to 35 year olds, 3.5% in 36-49 year olds, 16% in 50-64 year olds and 80% in over 65s. So if you're under 35, your odds of dying are 1 in 14,000. So it's more like the odds of one or two people getting shot and killed at a BOK concert. Would you still go to the concert?
Here's what we know about the current mRNA vaccines and their side effects:
The most frequent side effects are pain at the injection site, flu-like symptoms (low to mild fever, headache, achy). These symptoms typically are more frequent with the second vaccine. That is your body building immunity. So you may feel lousy for a day or two after. But that is the tradeoff for being protected from COVID. From what I hear, dying from COVID is a long, nasty, lonely process. I don't want that to happen to me or my loved ones.
Severe allergic reaction in only 1 out of 100,000 (0.001%) - most in the first 15 to 30 minutes. As of yet, no one has died from an allergic reaction to the vaccine. But this week, 12 people died of COVID per day in Tulsa County.
You can read all the study data and side effects in the PDR sheets for the Pfizer and Moderna vaccines on the internet, and all the other information on the links on the Allergy Clinic of Tulsa website.
Someone just told me the odds of winning Mega Millions is about one in 300 million. Being struck by lightning twice in my life is 30 times more likely than that. But I'm going to get a ticket anyway. That's probably a bad call on my part. But I won't make a bad call by not getting vaccinated against COVID.
OSDH Vaccine Scheduler Portal available for pre-registration
Below is a message and link from the Oklahoma State Department of Health for information and pre-registration for the COVID-19 vaccine.
OKLAHOMA CITY — Earlier this week, OSDH announced the launch of an online COVID-19 Vaccine Scheduler Portal on Thursday, January 7, to notify Oklahomans when they're eligible to receive the vaccine and provide more information on how to schedule an appointment.
As of today, Oklahomans can visit this portal at vaccinate.oklahoma.gov, but appointment scheduling will not be available until Thursday, January 7.
However, pre-registration is open for all Oklahomans to enter their personal information to determine their eligibility to receive the vaccine within Oklahoma's priority phase plan and receive notifications when the vaccine is available to them.
Remember, beginning Jan. 7 only Oklahomans who are 65+, healthcare workers and/or first responders will be able to schedule appointments. As our state advances in our phased approach to vaccine distribution, the system will notify and allow individuals in additional priority groups and phases the opportunity to schedule their appointment.
Please note that eligibility also doesn't mean you'll be able to receive an appointment right away. Appointment availability will depend on vaccine supply in each county, which changes from week to week as the state receives more vaccine doses from the federal government.
If you're not currently eligible to receive the vaccine or if there are no appointments available in your area based on vaccine supply, registering in advance will ensure you are notified by email when your appointment is available.
As a reminder, there is no list for Oklahomans to be added to in order to be included in the state's phased approach to vaccine distribution. The Vaccine Scheduler Portal is a tool to help notify eligible Oklahomans when and where they can receive the vaccine when an appointment is available to them.
Oklahomans can begin the pre-registration process today at vaccinate.ok.gov.
Link: https://oklahoma.gov/covid19/newsroom/2021/january/osdh-vaccine-scheduler-portal-available-for-preregistration.html
Covid-19 Vaccination Tips - Posted 12/14/2020 - Updated 12/15
Covid-19
Vaccination Tips
If you are a patient of the Allergy Clinic and have COVID vaccine questions, consider the following (not to be construed as individual medical advice):
1) Are you part of the group that is eligible for the first wave of vaccination (people over 16 years old who are hospital workers directly caring for COVID patients, nursing home resident or emergency personnel)? If not, it would be better to delay any questions until it is your turn to be vaccinated, so we can give you the most up to date advice.
2) If you qualify for first wave vaccination, the only absolute contraindication listed under the FDA Emergency Use Agreement (as of 12/12/2020) is an allergy to the vaccine or the vaccine ingredients themselves. These are listed on the website www.cvdvaccine.com along with a list of considerations to discuss with the provider who will actually be giving you the vaccination. Please know that as of this time ACT will NOT be a participating vaccination site. Some conditions on the list that you should discuss with the vaccine provider are bleeding disorders, lowered immunity, current fever, pregnancy or breastfeeding, and others. That website also lists possible side effects that include injection site pain, fatigue, flu-like symptoms, fever in 14%, and others. As of this writing, conditions that are NOT specifically addressed by the FDA are food allergies, other anaphylaxis conditions, or medication allergies and we cannot speculate if this would place you at a greater risk for an adverse vaccine reaction.
3) There are no preservatives in the Pfizer Covid vaccine.
4) If after researching the vaccine you have specific questions that you feel would be best addressed by your ACT doctor, please feel free to contact us.
5) 12/15/2020 Important Resource Material - https://www.cdc.gov/vaccines/covid-19/info-by-product/pfizer/clinical-considerations.html
Scan Card - Posted 11/23/2020
For your safety, your scan card for shots is an added layer of identification. We will be requiring everyone to have one to properly identify you when you come in for allergy treatment. If you do not have a scan card simply check-in at the front desk at your normal location to receive your shots and we will provide one for you. As always your first card is free, if a replacement is required there is a nominal $2.00 fee.
Immune Deficiency Foundation
The Immune Deficiency Foundation is hosting an IDF National Summit, which will occur virtually on November 5-8, 2020, for people in the PI Community.

The IDF National Summit, formerly known as IDF Retreats, is an online gathering designed with everyone in the primary immunodeficiency (PI) community in mind! Patients, parents, siblings, children, and partners are encouraged to attend and learn how to develop better approaches to living with PI.

This new, immersive virtual format provides a unique opportunity to spotlight the best of what an online modality affords - meaningful collaboration and the ability to reflect and connect with others - no matter the location.

INFECTION CONTROL POLICY
ALLERGY CLINIC OF TULSA
ENHANCES INFECTION CONTROL POLICY
We all know Coronavirus (COVID-19) has become an emerging threat across the country. Controlling the spread of infectious viruses is now even more important than before.
Therefore, we must ask that anyone who has recently traveled out of state within 14 days, been exposed to coronavirus cases or has flu-like symptoms (fever, body aches, sore throat, cough or shortness of breath):
DO NOT come to the clinic.
Call our office at 918-307-1613 and speak with a triage nurse -OR- send a portal message to determine your next step for treatment.
Further, if you are coming to the clinic for a scheduled appointment, testing or to get your allergy shots, we humbly request the following:
Adults - We ask that only the patient being seen/treated come to the clinic.
Minor children - We request that just one parent or guardian accompany the patient.
While we understand our requests may pose an inconvenience to some, our goal is to control overcrowding in our waiting room and better manage this evolving situation. While in our clinics, you will also notice enhanced anti-viral cleaning measures taking place. Rest assured, these are additional preventative measures to protect our entire patient population.
Phase 1 - Updated 05/22/2020
Effective June 1, 2020, our providers will return to rotating throughout our clinics on their normal schedules. Please be advised that our Infection Control measures remain in place at all offices:
Only the patient (or one parent with a minor child) will be allowed to come into the office for appointments or allergy injections

Every patient (and parent) must wear a face mask or some type of face covering while in the clinic

Each person entering the clinic will be asked screening questions at the front doors

Your temperature will be taken before admittance into the lobby is permitted

We ask you to maintain Social Distancing (minimum 6 feet from other patients) while in the clinics

Staff will continue disinfection protocols - hourly for all hard surfaces in the lobby and exam rooms after each patient is seen
ACT Is Continuing Care During COVID-19 Pandemic - Last Updated 05/22/2020
ACT Is Continuing Care During COVID-19 Pandemic
CRITICAL / ESSENTIAL
As a healthcare facility, the offices of Allergy Clinic of Tulsa are considered part of the "critical" or "essential" workforce. In an effort to minimize COVID-19 exposure to our patients, providers, and staff, each office has a strict screening process in place for all persons entering the clinics. Temperature readings are also being taken prior to entry. This process, along with hourly disinfecting procedures, helps to ensure that all our offices remain a "No Infection Zone". We appreciate your patience.
COMING TO THE CLINIC?
As a reminder, when coming to the clinic for an appointment, testing or allergy shot, we humbly request the following:
Adults - We ask that only the patient being treated come into the lobby
Minor Children - We request that just one parent/guardian accompany the patient into the lobby
While we understand our requests may pose an inconvenience to some, our goal is to control overcrowding in our waiting room and better manage this evolving situation.
TELEHEALTH VISITS NOW AVAILABLE!
Still concerned about a potential exposure risk? The Allergy Clinic of Tulsa providers are now set up to do TeleHealth visits for some appointment types. You must be web-enabled, signed up for our patient portal and sign an electronic TeleHealth Consent Form. Unsure of your ability to participate? Call and speak to one of our schedulers if you are interested in this option.
QUESTIONS ABOUT APPOINTMENTS, ALLERGY SHOTS, EXTRACT?
Please call our office at 918-307-1613 and speak with someone in scheduling, a triage nurse or an extract triage nurse -OR-send a portal message to your provider.
No Show Fees
ATTENTION PATIENTS
Effective November 1, 2019



Patients who no-show or cancel/reschedule less
than 24 hours prior to their appointment time
will be charged a $50 fee
.
This fee must be paid before a new appointment can be scheduled.
We understand that it is sometimes difficult to keep a scheduled appointment due to unforeseen circumstances. However, missed appointments (no-shows) or late cancellation/reschedule of an appointment adversely affects our ability to provide timely care to patients on our waiting list. When a patient does not show up for or cancels their appointment last minute, another patient loses the opportunity to be seen.
We appreciate your understanding and cooperation in this matter.
PatientGram
Click the link to view our PatientGram, it is our monthly informative article to help keep you aware of what is happening at the Allergy Clinic of Tulsa.
Food Allergy
Sometimes children labeled with food allergy due to past positive tests aren't really allergic at all and can eat all and can eat these foods without symptoms. Your allergist may want to introduce your child to these foods, using a safer manner than just trying it at home. This is called a food challenge. Ask your allergist if this would be an option for your child.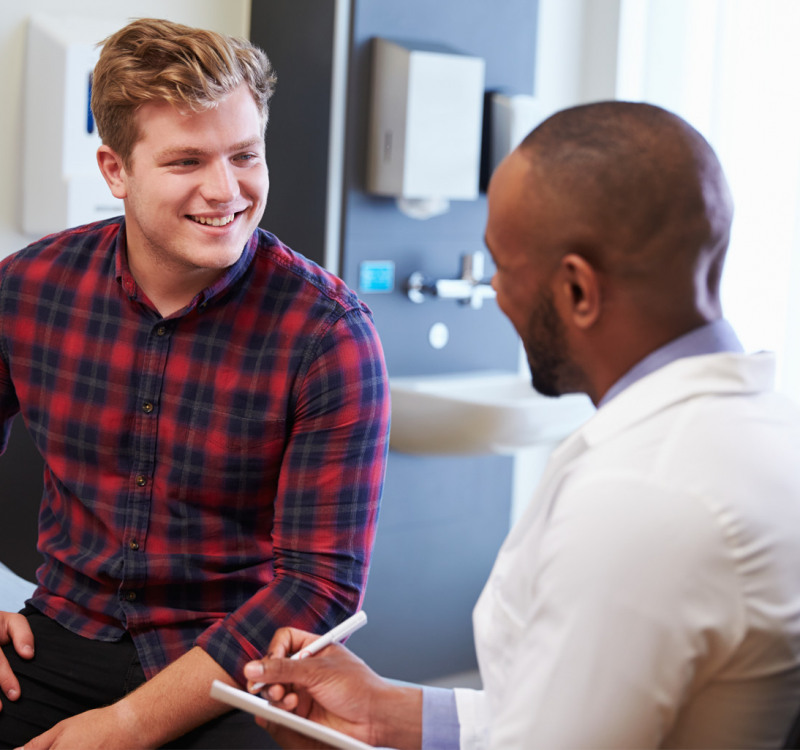 Our Goal is a Healthy, Happy You
Our primary goal at Allergy Clinic of Tulsa since 1959 is to provide our patients focused, cost efficient medical care with stated treatment goals and measurable results. We hope you will browse our website and feel free to contact us with questions, comments or to schedule an appointment. Our medical staff includes seven board certified medical doctors trained in pediatric and adult treatment of allergy, asthma and immunology related conditions, as well as testing for various food and drink allergies.
Changed my life!

This place has changed my life! I used to be sick almost every spring and any windy days... Resting better and more functional! TY allergy clinic of Tulsa! This and my HiTech air machine has made a world of difference! ACofTulsa Rocks!

- Susan W.

Improved my son's life

ACT was life saving to my son. For three years we struggled with my sons allergies before we met Dr. Love. We are so thankful to him for his care. He improved my sons life drastically with his guidance and care. I must also give praise to Todd Coleman and Karen Arnold ... they have been great docs as well along our journey.

- Carmell G.

So Thankful

As any mother of a child with allergies knows, it can be life threatening and letting your child grow up and be normal is sometimes scary and hard to do. Dr. Purser has enabled Shelby to spread her wings and enabled me to let go, she has given her a great freedom and a priceless gift. I am thrilled to have her care and encouragement for Shelby.

- Richelle W.
Upcoming Closings & Early Day
We will be closed Monday September 3rd for Labor Day.
Have a great Holiday
Five Convenient Locations in the Greater Tulsa Area