Upcoming Clinic Closings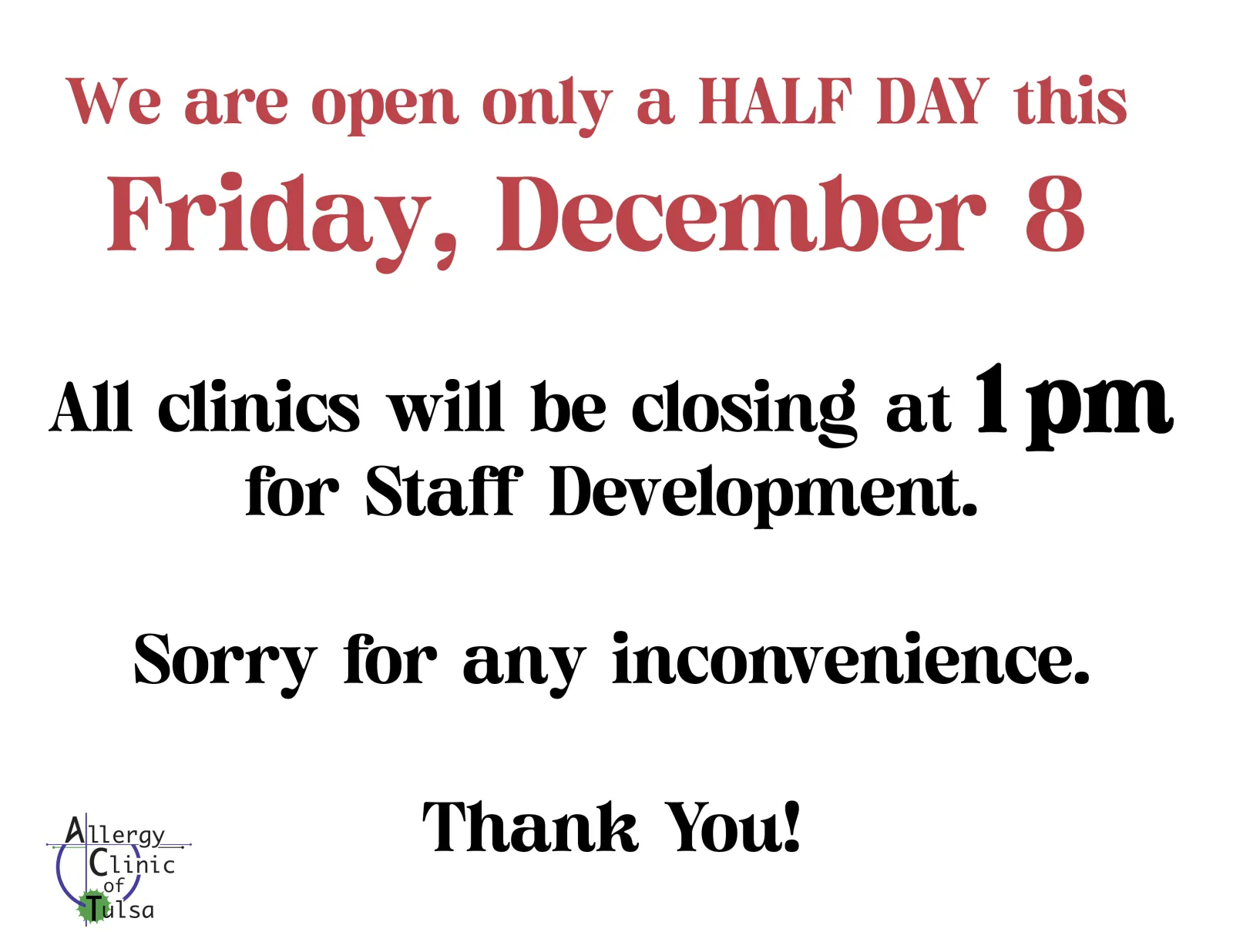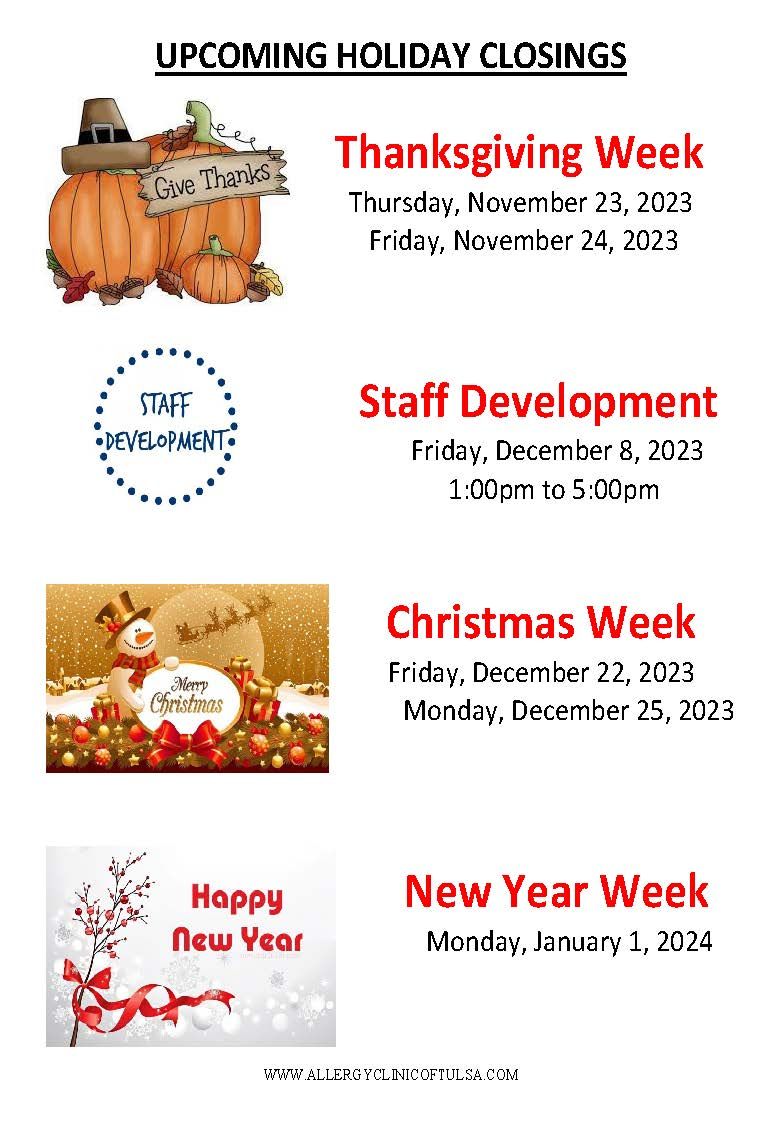 Important Info for Patients Getting Allergy Shots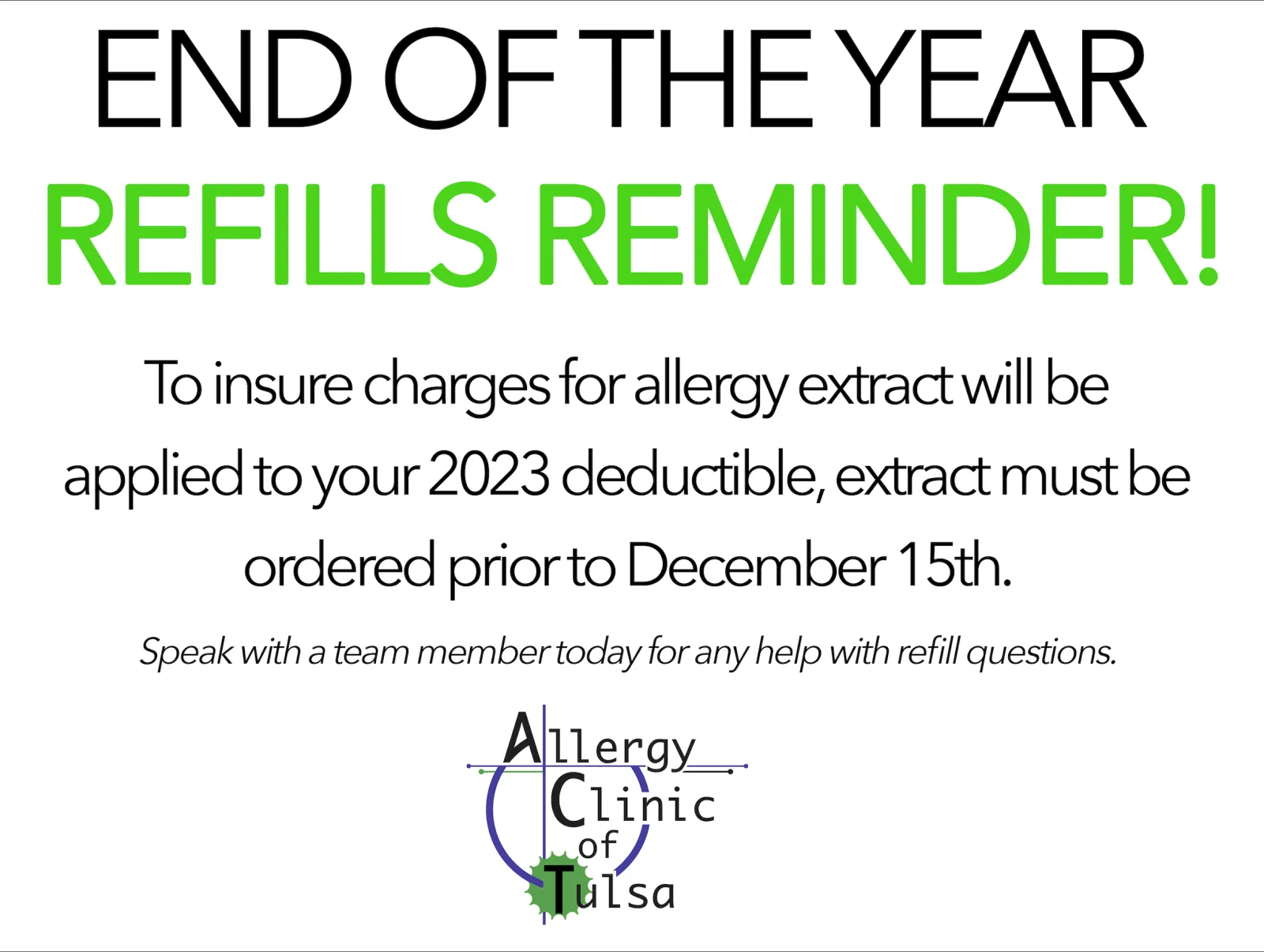 The Allergy Clinic's Dr. Brandon Humble Speaks With Channel 8 News About Allergy Myths!
Utica and Olympia Location Hours are Changing October 16th!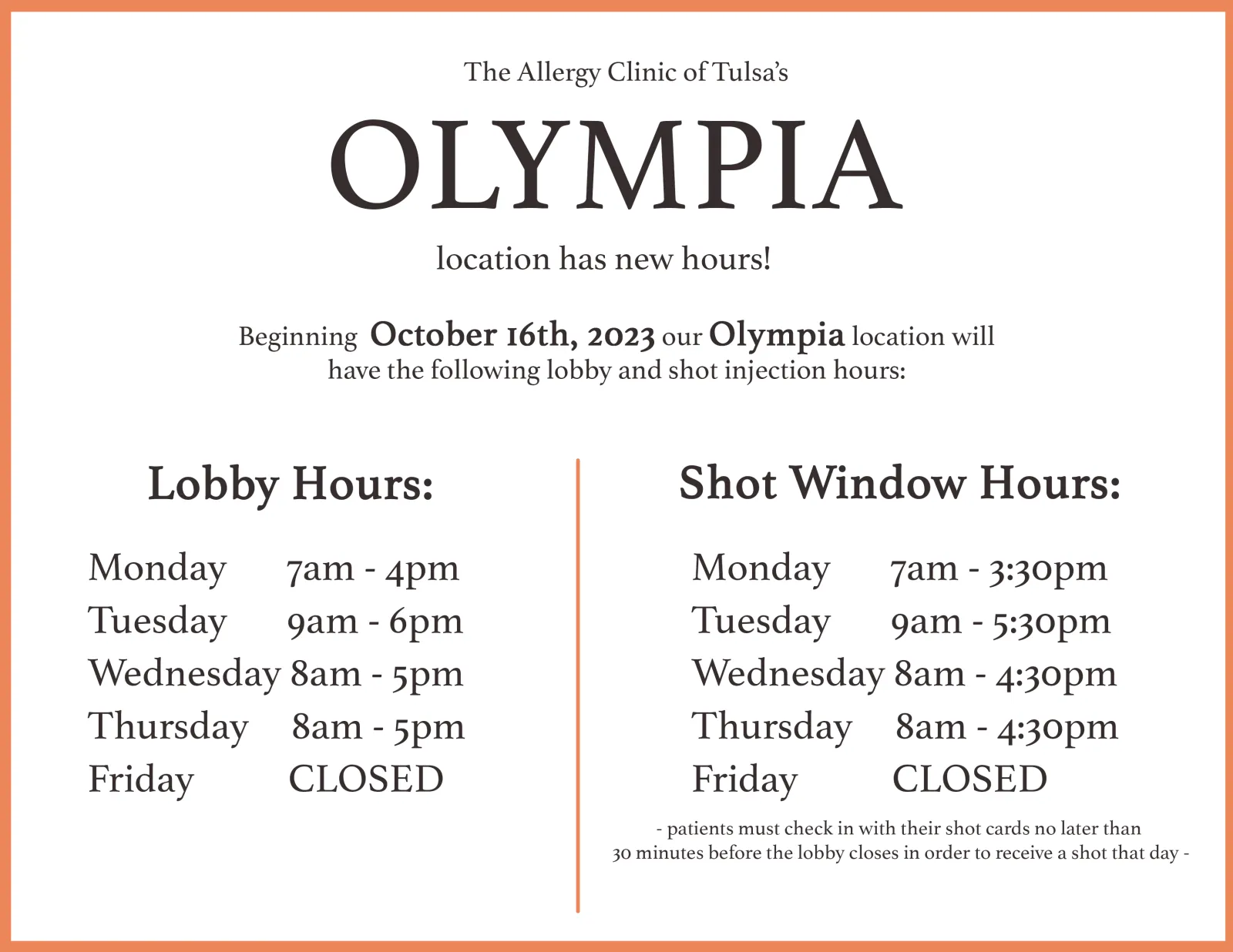 Patient Statements
Patient Statements
Allergy Clinic of Tulsa will be implementing our patient communication enhancement feature to send our communication pieces to you more efficiently. This ability will also help us all by reducing paper usage and improving our carbon footprint. To start, your patient statements will be sent via a link to your Email and/or SMS (text message) that you have provided us for your account. You will be able to conveniently and securely view your statement and make a payment from the link if you choose. We can also provide instructional handouts if you would like further assistance.
We thank you for growing with us and we look forward to continuing to provide excellent service.
No Surprise Billing ACT 2022 - Posted 01/2022
Phone Call Tree 03/20/2023
If you need to call choose from the options below or send us a message through your patient portal.
If this is a potential Life-Threatening Emergency call 911
1) Having an Allergic Reaction
2) Appointments / Medical Records
3) Doctor to Doctor Calls Only
4) Outside Offices Only with Extract Question
5) Medication Refills / Nursing Questions
6) Billing / Insurance
Tulsakid Winners 2023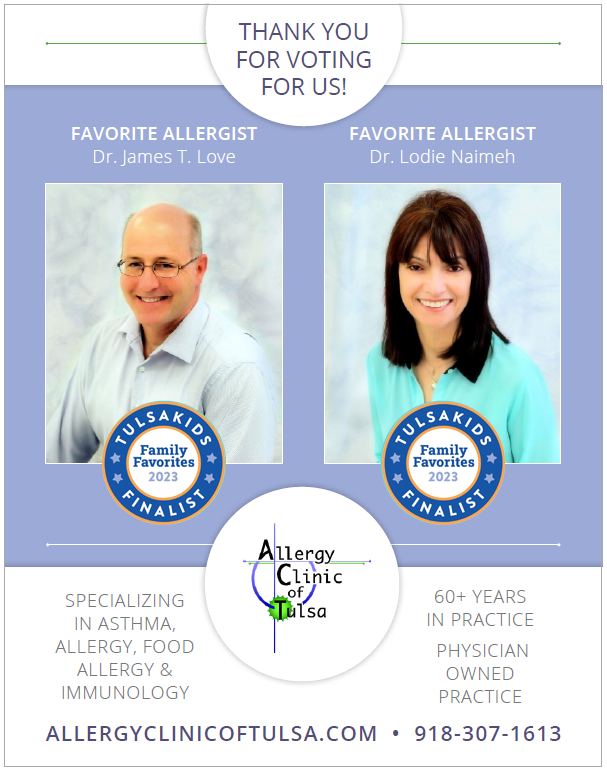 Tulsakid Winners 2022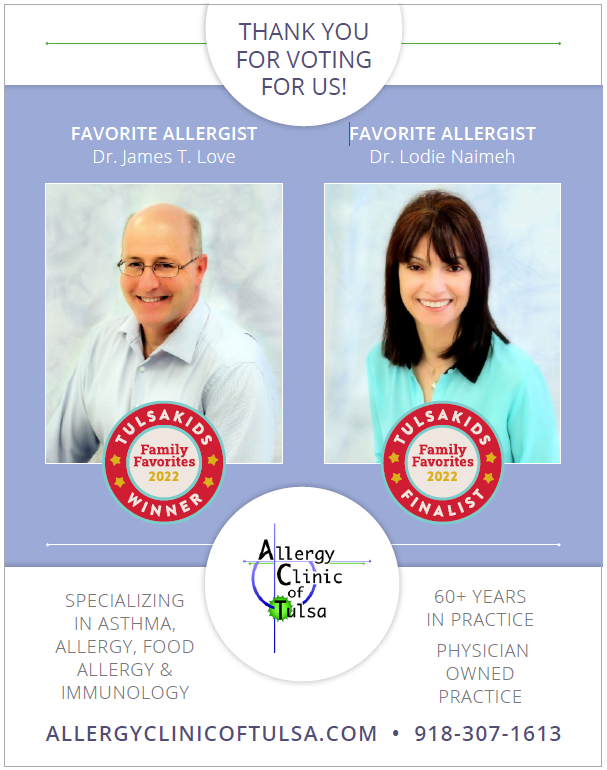 Tulsakid Winners 2021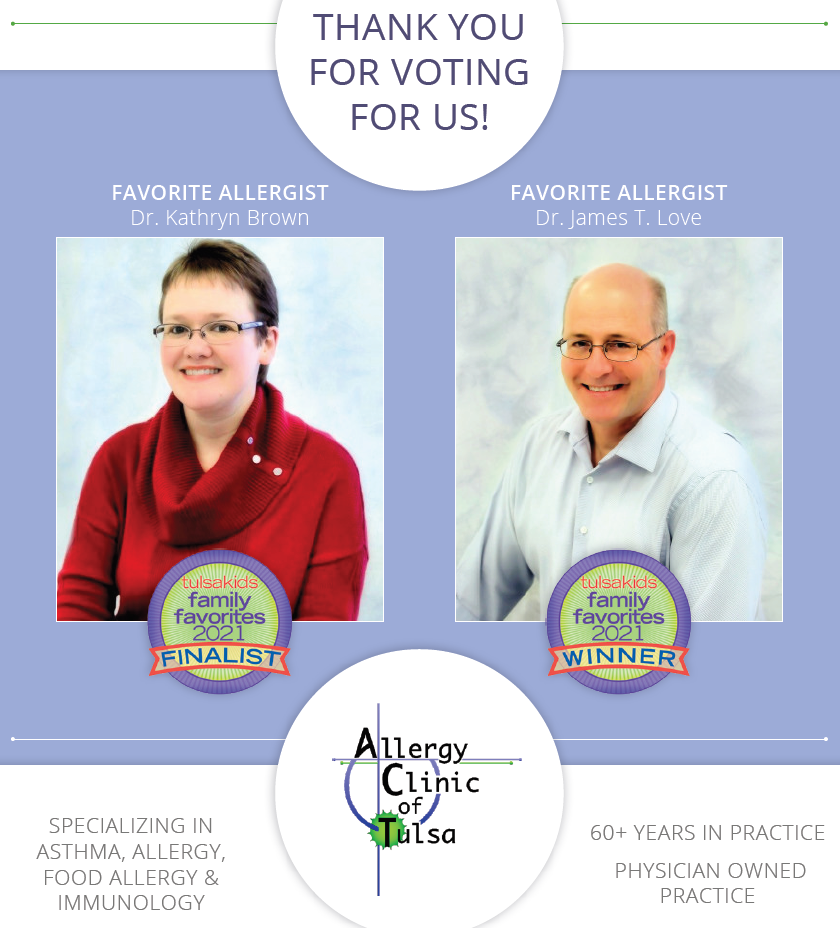 ACT has COVID vaccine available
Effective immediately, we are administering Moderna vaccine to current patients on Wednesdays, by appointment only. If you are interested in receiving the vaccine, please contact our office and ask to speak with or select the option for "Nurse Line" to schedule your appointment time.
Things to keep in mind:
Only patients 18 years and older are eligible to receive the Moderna vaccine

Bring a photo ID and insurance card with you to the appointment

You cannot receive an allergy injection 48 hours before or after receiving the vaccine
The appointment for your second dose (28 days later) will be made at the time you check-in for the first dose
Be prepared to wait a minimum of 15 minutes after the vaccination for monitoring
No Show Fees
ATTENTION PATIENTS
Effective November 1, 2019



Patients who no-show or cancel/reschedule less
than 24 hours prior to their appointment time
will be charged a $50 fee
.
This fee must be paid before a new appointment can be scheduled.
We understand that it is sometimes difficult to keep a scheduled appointment due to unforeseen circumstances. However, missed appointments (no-shows) or late cancellation/reschedule of an appointment adversely affects our ability to provide timely care to patients on our waiting list. When a patient does not show up for or cancels their appointment last minute, another patient loses the opportunity to be seen.
We appreciate your understanding and cooperation in this matter.
Allergy Injection Self Sign-In
As an additional patient safety issue, our physicians have mandated that all patients check themselves in with the scan card provided to them at their first injection. If you present to a clinic without your scan card, you may purchase a duplicate for the minimal cost of $2.00. Patients will no longer be checked in by the front desk or front lab personnel.
Insurance Card
Each time you come to the clinic, the front desk staff is going to ask to see your insurance card. It contains important information needed in order to correctly bill the insurance for your services. If the correct information is not obtained, claims could be denied - making the patient responsible for all charges. Please make sure you have a physical copy with you -OR- email us a copy of the front and back of your card to
forms@allergyclinicoftulsa.com
and include the patient's name and date of birth. Be sure to save a copy to your phone to show the desk staff upon arrival. Without it, we may not be able to verify your benefits, causing your visit to be converted to "Self Pay".
Scan Card - Posted 11/23/2020
For your safety, your scan card for shots is an added layer of identification. We will be requiring everyone to have one to properly identify you when you come in for allergy treatment. If you do not have a scan card simply check-in at the front desk at your normal location to receive your shots and we will provide one for you. As always your first card is free, if a replacement is required there is a nominal $2.00 fee.
Immune Deficiency Foundation
The Immune Deficiency Foundation is hosting an IDF National Summit, which will occur virtually on November 5-8, 2020, for people in the PI Community.

The IDF National Summit, formerly known as IDF Retreats, is an online gathering designed with everyone in the primary immunodeficiency (PI) community in mind! Patients, parents, siblings, children, and partners are encouraged to attend and learn how to develop better approaches to living with PI.

This new, immersive virtual format provides a unique opportunity to spotlight the best of what an online modality affords - meaningful collaboration and the ability to reflect and connect with others - no matter the location.

Food Allergy
Sometimes children labeled with food allergy due to past positive tests aren't really allergic at all and can eat all and can eat these foods without symptoms. Your allergist may want to introduce your child to these foods, using a safer manner than just trying it at home. This is called a food challenge. Ask your allergist if this would be an option for your child.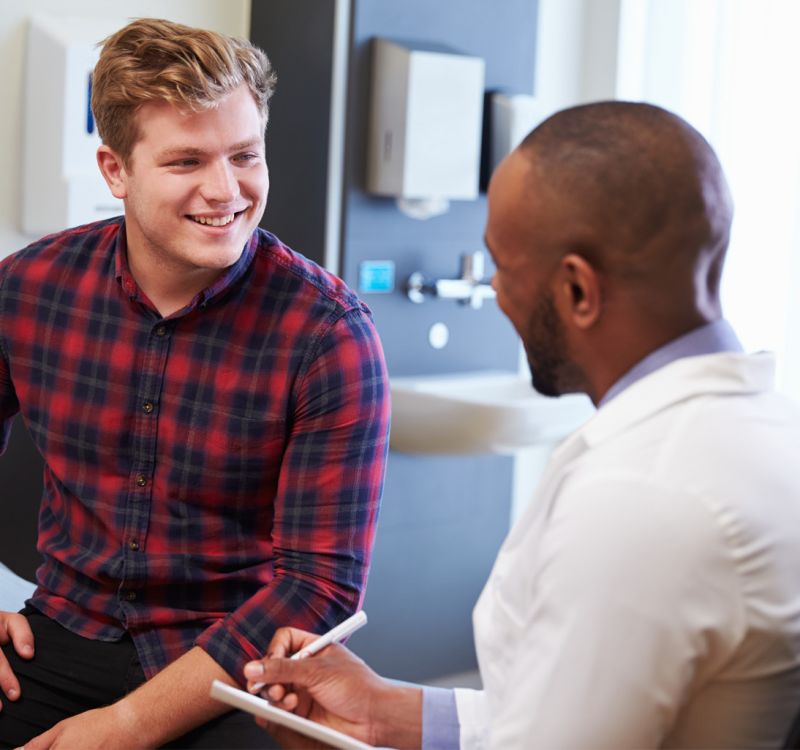 Our Goal is a Healthy, Happy You
Changed my life!

This place has changed my life! I used to be sick almost every spring and any windy days... Resting better and more functional! TY allergy clinic of Tulsa! This and my HiTech air machine has made a world of difference! ACofTulsa Rocks!

- Susan W.

Improved my son's life

ACT was life saving to my son. For three years we struggled with my sons allergies before we met Dr. Love. We are so thankful to him for his care. He improved my sons life drastically with his guidance and care. I must also give praise to Todd Coleman and Karen Arnold ... they have been great docs as well along our journey.

- Carmell G.

So Thankful

As any mother of a child with allergies knows, it can be life threatening and letting your child grow up and be normal is sometimes scary and hard to do. Dr. Purser has enabled Shelby to spread her wings and enabled me to let go, she has given her a great freedom and a priceless gift. I am thrilled to have her care and encouragement for Shelby.

- Richelle W.